The Ubie, (pronounced "ooh-bee") is the world's smallest vaporizer. The Ubie is light fast and efficient. It's simply the best. Ubie uses hot air from a lighter to rapidly release organic aromas. The Ubie automatically controls temperature to remove flavors without burning.
The result is superior aroma an flavor --without harsh wood smoke!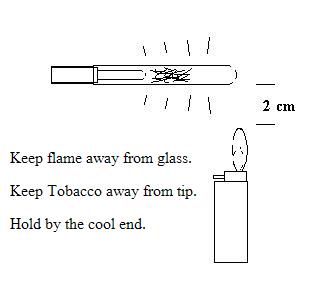 How the Ubie works:
The Ubie operates easily. Warm air above the flame (which is CO2 and H2O) is drawn through the tip and through the tobacco. The flow of warmth through the diffusion tip automatically prevents burning.

How to operate the Ubie:
Place a tiny amount of finely chopped tobacco or herbal inside. Replace the mouthpiece. Hold the tube vertically and tap the tube gently to gather the tobacco toward the mouthpeice. Hold a standard butane lighter flame about 2 cm below the tip when drawing flavor. After the tobacco becomes exhausted it is easily tapped (with fingernail) to fall out of the cylinder while still warm. Remember, the glass gets hot for a minute, so hold the Ubie by the cool end.


Why is the Ubie the best vaporizers out there?
Works with a lighter.
Heats instantly.
It's portable.
Easy to use.
Provides rich excellent flavor.
Made of precision crafted Pyrex glass.
Other vaporizers still need cleaming eventually.
The similar products are ALL knockoffs of our amazing patented flame-through technology.


Other products like the Ubie:
There are many vaporizers on the market. The Ubie is a true convection vaporizer and it's portable.
The Ubie's high efficiency and rich vapor make it a favorite.


How long does the Ubie last?
The Ubie can be reused indefinitely as long as it is cleaned regularly and not dropped on a hard surface.


Is the Ubie safer than smoking?
Vaping is believed to be 95% less damaging than "smoking". Reports also say the Ubie eliminates smoker's cough. Studies of non combustion vaping show 95% lower toxicity [1] [2] and approximately 98% reduction in second hand smoke [3]. Yet there is no guarantee smoking will be completely "safe" even if combustion byproducts are eliminated. (Our data comes from R.J. Rynolds Volitization studies which is no longer on the the internet.)


Help us out
Link to us and help our google rating !


The letters say it all.
Take a look at what our customers say and you'll see the ubie is a great smoking alternative with rich flavor in a compact style.




Checks may also be entered on paypal .

Or, you can also send them to:

AmericanSmokeless.Com

Box 27068

Philadelphia, PA 19118

Email us

about

wholesale Please let us know your product needs.
And please buy the Ubie from the owner here..



Paypal.com (now owned by

e

b

a

Y

) is a fast, free, secure payment processor with multiple safeguards. The window can take several seconds to pop up.

But, they also take checks --on-line!

You don't have to send checks you can enter them on-line!.